Press Releases
Missing dog recovered
Friday, May 3, 2019
Posted by Cindy Chadwick - (318) 681-0666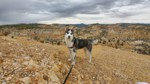 Click on thumbnail to enlarge
A Siberian Husky puppy taken from outside a store in south Shreveport has been recovered.
The dog named Rocky was taken from Wal-mart on Mansfield Road on Thursday around 8 p.m. His owner, a long-haul truck driver from Florida, had stopped at the store for medication and tied the dog to a pole near the south entrance while he went inside.
A couple shopping at the store was captured on video interacting with the dog. In an attempt to identify the couple, their photos were placed on the Sheriff's Office Facebook page. Family and friends of the couple saw the post and alerted the man that he should contact the Sheriff's Office. He did, and the dog was recovered this afternoon at his residence in south Shreveport.
The case remains under investigation. Rocky, who is six months old, will spend the night with Sgt. John Hay, who investigated the case, until he can be picked up by his owner tomorrow.
For questions regarding this press release, please contact Cindy Chadwick at (318) 681-0666