Press Releases
CPSO seeks owner of horse
Tuesday, September 18, 2018
Posted by Cindy Chadwick - (318) 681-0666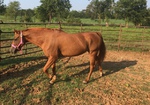 Click on thumbnail to enlarge
The Caddo Parish Sheriff's Office is looking for the owner a horse found in north Shreveport today.
The Livestock Patrol was called to the 1700 block of Boykin Boulevard for a sorrel mare with a pink halter that was loose in the area. When the deputy arrived, the horse was in a yard eating flowers. The horse was located and taken to the Sheriff's Office holding pen. If the owner is not located, it will be sold at auction.
For more information, contact Cpl. Gary Bailey at 681-1120.
For questions regarding this press release, please contact Cindy Chadwick at (318) 681-0666