Press Releases
Caddo deputy honored as First Responder of the Year
Monday, September 10, 2018
Posted by Cindy Chadwick - (318) 681-0666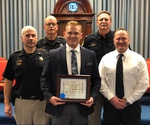 Click on thumbnail to enlarge
Caddo Sheriff's Deputy Larry Pierce was honored by the Masonic Caddo Lodge #179 as the First Responder of the Year during a ceremony on Thursday, September 6.
The award was presented for exemplary leadership, outstanding response to incidents, and diligent service to the community.
Pierce is a seven-year employee of the Caddo Sheriff's Office. He currently serves as a detective in the Youth Services Division but he also has served as a security deputy at Caddo Correctional Center and as a patrol deputy.
As a detective, Pierce investigates many types of cases, including those involving teenage runaways, child physical abuse, and child sexual abuse. When receiving his award, he was specifically recognized for his professionalism, investigative and interview skills, and ability to locate juvenile runaways before they could become victims of crime.
Pierce is a member of the Sheriff's Mobile Field Force Team, the Internet Crimes against Children Task Force, and the Community Response Team, which provides services to troubled youth.
Pictured are:
Front - Sgt. Andy Scoggins, Detective Larry Pierce, Captain Bobby Herring.
Back - Lt. Richard Jennings, Chief Jay Long.
For questions regarding this press release, please contact Cindy Chadwick at (318) 681-0666