Press Releases
Woman arrested for felony theft
Thursday, July 5, 2018
Posted by Cindy Chadwick - (318) 681-0666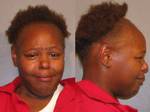 Click on thumbnail to enlarge
A Shreveport woman was arrested this week for stealing several thousand dollars from her employer, said Sheriff Steve Prator.
On Tuesday, July 2, Sheriff's Det. Jeremy Edward was contacted about an internal theft at Wal-Mart at 1645 East Bert Kouns. Kayla Baker, a store employee, was caught on video stealing money from the cash register on numerous occasions. Baker is accused of stealing $4,544.
She was booked into the Caddo Correctional Center for Felony Theft.
For questions regarding this press release, please contact Cindy Chadwick at (318) 681-0666