Press Releases
Caddo deputy locates vehicle from Texas carjacking
Thursday, May 10, 2018
Posted by Cindy Chadwick - (318) 681-0666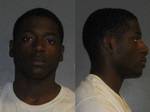 Click on thumbnail to enlarge
A vehicle stolen during a carjacking in Fort Worth, Texas, was recovered in Caddo Parish following a brief pursuit by deputies, said Sheriff Steve Prator.
Caddo Sheriff's Deputy Justin Sundquist attempted to stop a speeding 2012 BMW on LA 3132 around 11:30 p.m. Wednesday. The driver, Quantravous Williams, 18, of Shreveport was taken into custody a short while later on Raspberry Lane.
The vehicle had a switched license plate. A check of the Vehicle Identification Number revealed it was reported stolen through Texas. The vehicle was taken in a carjacking in Fort Worth on April 29. The Caddo Sheriff's Crime Scene Investigation Unit and Patrol Division are assisting Fort Worth PD detectives with their case.
Williams was booked into the Caddo Correctional Center for Aggravated Flight, Unauthorized Use of a Motor Vehicle, Switched Plates, and Speeding
For questions regarding this press release, please contact Cindy Chadwick at (318) 681-0666