Press Releases
Local couple charged with juvenile cruelty
Thursday, February 1, 2018
Posted by Cindy Chadwick - (318) 681-0666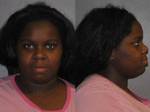 Click on thumbnail to enlarge
A local couple has been arrested for physically abusing a 4-year-old girl in their care, said Sheriff Steve Prator.
Kamre' Taylor, 20, and Antonio Nobles, 22, of the 9000 block of Park Haven, were booked into the Caddo Correctional Center this week after warrants were obtained for their arrest by Caddo Sheriff's Detective Jacob Bergren.
A Department of Children and Family Services employee reported the abuse to the Sheriff's Office after the girl was taken to University Health following a seizure. Medical personnel examined the child and said she had ligature marks on her wrist, loop-shaped scars on her thighs, a head injury, and was malnourished.
DCFS removed the girl and three siblings, ages 7, 2, and 8 months, from the home.
Taylor and Nobles were charged with second-degree cruelty to juveniles.
For questions regarding this press release, please contact Cindy Chadwick at (318) 681-0666