Press Releases
Caddo Sheriff announces promotion
Monday, January 8, 2018
Posted by Cindy Chadwick - (318) 681-0666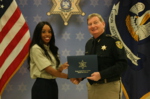 Click on thumbnail to enlarge
Caddo Sheriff Steve Prator will recognize one employee with a promotion and others for their years of service to the Sheriff's Office during a ceremony at 8:30 a.m. Tuesday, January 9, at the Re-Entry Facility on Forum Drive.
Ashley Oliver will be promoted to Manager of Mental Health at Caddo Correctional Center. Oliver joined the Sheriff's Office in 2016. She has a bachelor's degree from Centenary College and a Master of Science from LSU-Shreveport.
Employees being recognized for their years of service are: Quashanda Davis, Brandon Dunn, Charles Everett, Shirley Handy, Kelly Hughes, Karen Jackson, and Brionna Millon, five years; Demetrice Adams-Ellis, Thomas Englade, Terry Hamilton, Jr., Michael King, Christopher Menard, Ti'a Moore-King, Michael Taylor, and Nathanial Wesson, 10 years; Douglas Flynn and Christopher Keene, 15 years; John Baccarie, Adam Barnard, and Saundra LeFall, 20 years; and Alfred Dinkins, Tammy Eiskina, Michael Gray, and Brian Wilson, 25 years.
- cpso -
For questions regarding this press release, please contact Cindy Chadwick at (318) 681-0666